Join the fun with friends at Kids' City!
Kids' City runs after school clubs for children aged 3-11 years old at 14 schools in Lambeth, Wandsworth, Merton and Hounslow. The clubs start from the close of school until 6pm each day.
Our caring team of staff and volunteers are all fully trained with enhanced DBS checks and have a passion for play! We run a fantastic and exciting programme of activities, delivered by professionals.

Parents can collect children from 5pm until the club closes during which time there is free play for all children, including an opportunity to do homework and socialise before going home.

Early Years and Foundation Stage children can choose to join in with the structured activities and have opportunities to participate in play throughout the afternoon, which incorporate the prime, specific and key characteristics of the Early Years and Foundation Stage.

Bookings can be made now!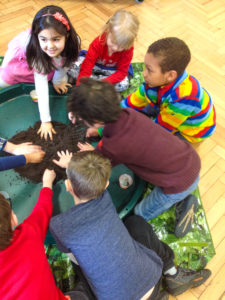 During the booking in period (up to midday on the second Friday of term) we need three days' notice before your child can start.
At all other times we need one week's notice before your child can start, subject to places being available.
Make sure your child's membership is up-to-date
All bookings for the after school club must be made online by parents or carers
Secure your child's place by booking online and paying the first instalment
Set up an easy monthly payment schedule
Places are guaranteed for all children booked within the booking-in period (providing the first instalment is paid at time of booking)
Give us a try!
All prospective pupils are welcome to attend a free taster day, usually on a Friday afternoon. Please register your child, completing all information and then call our bookings team on 0208 678 5959/68 to book your child's session. You will have an opportunity to meet the Centre Manager and ask any questions you might have. A registration is required due to Ofsted, but there is no commitment to a paid session.
Use the drop down menu "Our Centres" to access the list of schools and information about each specific school.